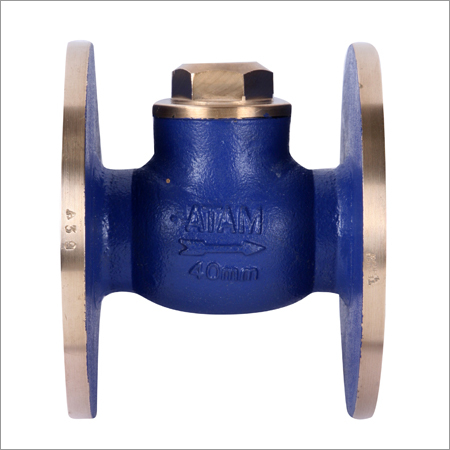 Horizontal Lift Check Valve
Product Description
To cater to the various requirements of our esteemed clients, we are engaged in manufacturing and exporting high quality Horizontal Lift Check Valve. The concept on which the check value operates is cracking pressure that is the least upstream pressure at which the valve will work. Our manufactured products are in strict adherence with the international standards. Some specifications of Horizontal Lift Check Valve are bolted cover, flanged & screwed ends and SS working parts.
Features
Maintenance free
Competitive prices
Sturdy construction
Longer working life
Test Pressure
Body : 24kg/cm2 (348 Psi g) Hyd.
Seat : 17.6kg/cm2 (255 Psi g) Hyd.
Material Combination
| | | | |
| --- | --- | --- | --- |
| P.No. | Name of Part | Material | Specification |
| 1 | Body | Cast Iron | IBR 86 to 93 Gr.A / IS 210 Gr. FG200 |
| 2 | Body Seat Ring | Stainless Steel | ASTM A276 TYPE 410 / ASTM A182 Gr. F6a / ASTM A217 Gr. CA15 |
| 3 | Disc Ring | Stainless Steel | ASTM A276 TYPE 410 / ASTM A182 Gr. F6a / ASTM A217 Gr. CA15 |
| 4 | Disc | Cast Iron | IBR 86 to 93 Gr.A / IS 210 Gr. FG200 |
| 5 | Gasket | CAF | – |
| 6 | Cover | Cast Iron | IBR 86 to 93 Gr.A / IS 210 Gr. FG200 |
| 7 | Studs and Nuts | Carbon Steel | – |
Dimensional Data
| | | | | | | | | | |
| --- | --- | --- | --- | --- | --- | --- | --- | --- | --- |
| Nominal Size (mm) | FF | H | ØFD | FT | ØRFD | RFH | k | n | Ød |
| 15 | 130 ±2 | 75 | 95 | 14 | 46 | 2 | 65 | 4 | 14 |
| 20 | 150 ±2 | 75 | 105 | 16 | 56 | 2 | 75 | 4 | 14 |
| 25 | 160 ±2 | 84 | 115 | 16 | 65 | 3 | 85 | 4 | 14 |
| 32 | 180 ±2 | 98 | 140 | 18 | 76 | 3 | 100 | 4 | 19 |
| 40 | 200 ±2 | 106 | 150 | 18 | 84 | 3 | 110 | 4 | 19 |
| 50 | 230 ±2 | 114 | 165 | 20 | 99 | 3 | 125 | 4 | 19 |
| 65 | 290 ±3 | 128 | 185 | 20 | 118 | 3 | 145 | 4 | 19 |
| 80 | 310 ±3 | 166 | 200 | 22 | 132 | 3 | 160 | 8 | 19 |
| 100 | 350 ±3 | 172 | 220 | 24 | 156 | 3 | 180 | 8 | 19 |
| 125 | 400 ±3 | 205 | 250 | 26 | 184 | 3 | 210 | 8 | 19 |
| 150 | 480 ±3 | 220 | 285 | 26 | 211 | 3 | 240 | 8 | 23 |